B
and
S
egmenting &
R
adar
D
etector
R
ejection (
BS & RDR
). Default is on the
Escort Redline Radar Detector
.
New software update provided BS & RDR features as well as enhanced laser detection of a few newer laser guns.
RDR-
When RDR is activated (default is on) two or more consecutive sweeps of Ka band are required before setting off an alert. This allows the RedLine to confirm if the initial alert is real or a false alert and if it should be suppressed. With RDR off it will trigger an alert on the 1st detection, no filtering at all.
We know turning off RDR will increase the RedLines range by quite a bit. However you will get falsing, especially from other RD's, so this is where you will want to Segment Ka to eliminate sweeping specific parts of the Ka Bandwidth were false signals reside but no real radar exists, like below 33.7 (ka1). Segmenting other portions of Ka will also help increase range/response, though RDR is the main feature increasing range/response.
The most popular radar bands used are
34.7 Ka 35.5 Ka & 33.8 Ka
, so those segments you will not want to leave off (turn on 2/5/8).
BS-
Now there is some amount of risk when you segment Ka band. For example if you come across an old version of the Stalker ATR that is operated at 35.2 and you keep Ka7 off it may cause a missed alert. In this case you could turn on the Ka7 segment as well as the normal 2/5/8.
But the best way to utilize the segments is run your RedLine in Spec mode (default BS/RDR settings) for a while so you can see the frequency's used in your area and adjust accordingly. You can also use the Geographical Survey to get an idea whats used in your area as well, serch for: "RDF Geographical Survey" The key to segmentation is understanding what guns are used in your area (MPH 33.8 - Stalker 34.7 - Kustom/Decatur 35.5), and what risk are you willing to take (Possible out of tune gun) and segment accordingly. I may turn on Ka4 for the small chance a 34.7 gun is out of tune since I see 34.7 the most.
Ka1- (33.392 - 33.704) ON or OFF (default is off)

Ka2- (33.704 - 33.896) ON or OFF (default is off) 33.8 Turn On*

Ka3- (33.886 - 34.198) ON or OFF (default is off)

Ka4- (34.184 - 34.592) ON or OFF (default is off)

Ka5- (34.592 - 34.808) ON or OFF (default is off) 34.7 Turn On*

Ka6- (34.806 - 35.166) ON or OFF (default is off) (you may want to turn to cover out of tune 34.7 guns)

Ka7- (35.143 - 35.383) ON or OFF (default is off)

Ka8- (35.378 - 35.618) ON or OFF (default is off) 35.5 Turn On*

Ka9- (35.595 - 35.835) ON or OFF (default is off)

Ka10- (35.830 - 35.998) ON or OFF (default is off)
*
Segments used by police across the US.
RDR-
ON or OFF (default is ON) Turn off for best performance and no false filtering. Coupled with the segmentation options above you will have superior range/reactivity and little to no falsing.
Once you have set these options they will remain set in your RedLine, even between power cyclings, until you change them or restore the unit's factory default settings.
As a side note: When using Escort Live with the RedLine you may have to cancel the firmware update if it asks, just to be safe.
Enjoy your RedLine!
Same settings on EL as my RedLine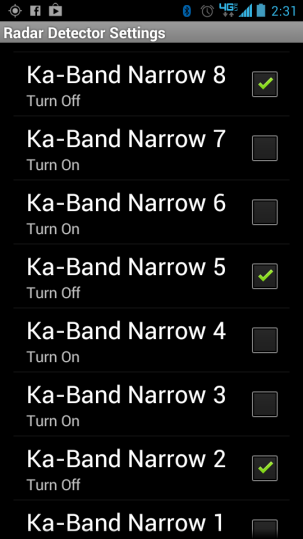 Guns used and frequencys used:
MPH Industries
33.8 GHz
Stalker Radar
34.7 GHz
Kustom Signals
35.5 GHz
Decatur Radar
35.5 GHz
McCoy's Law Line
35.5 GHz
RedLine vs V1 w/V1C:
http://escortradarforum.com/forums/s...ead.php?t=8095